(not to be confused with the old Marvel Comics Galvatron II)
I've been working on this since taking some time off from Bruticus. Had a lot of shit go down (loss of a loved one) and I decided to crank something out that I've had on my mind for quite a while now. So this has become my grounding bash--something to keep me sane and keep me going with everything going on lately. I'll try to share more WIP shots soon, but I wanted to give you guys a few head shots.
I took a Universe Springer figure and basically cut out all helicopter parts (cut the cockpit from his legs, removed the blades, and removed the winch). I shaved down some of the original Springer head and built onto it with some thin styrene sheet and strips. I also cut a chunk of the tail of the copter, then cut parts of it to attach to it to the rear end of the bot (this will be the tripod base for the cannon/alt mode). I took a Classics Megatron 2-pack tank and cut the tread sections from the chest and legs, glued them together, and added them to the backside of the forearms. I also cut the hip side panels off and glued them onto the actual hip so that the upper torso swivels without the need to lift them up and down. And last, I cut the knee sections off so that you can see the actual knees and joints--I'm building up on the lower legs to be more like Galvatron (rounded bits, with lots of detail).
This is still a huge WIP, but I'm working on the legs tonight some and the chest will come soon. When I'm done, this will be my interpretation of a Classics/Universe styled Galvatron (updated and more in scale with Classics Prime and Megatron). This will hopefully look nothing like a Universe Springer when completed (even now, he looks pretty different).
I'm still looking for a G1 Galvatron cannon and arm mount, but for now, I think I'm swiping the one I built and worked on for my previous Galvatron figure (I can always go back and do another one for him). I'll show more on this soon--just letting some glue dry tonight now.
Here are some early head shots (I'd say I'm roughly 95% done with it, just need to sand some areas a bit).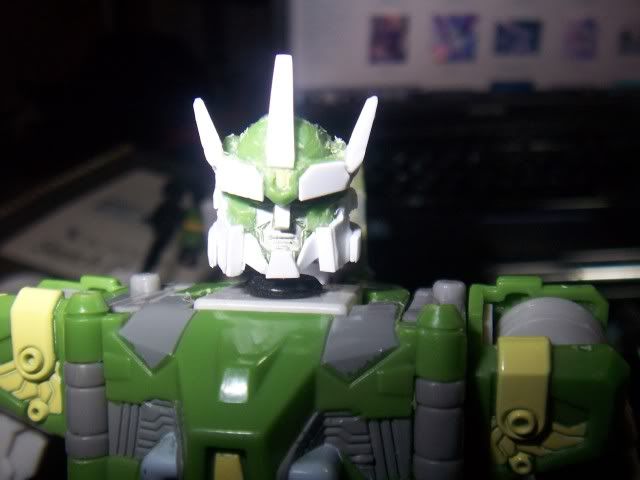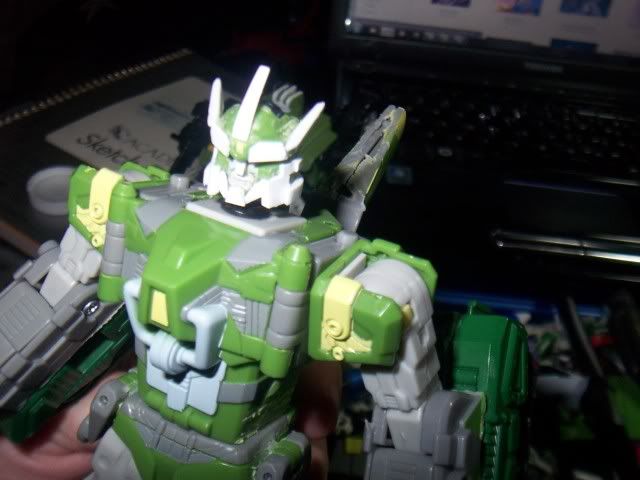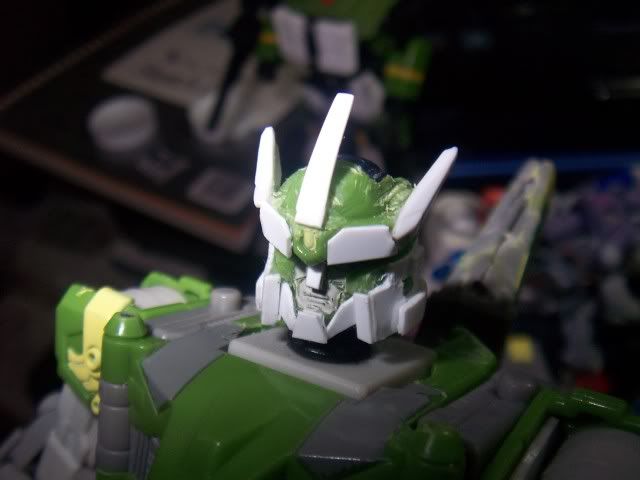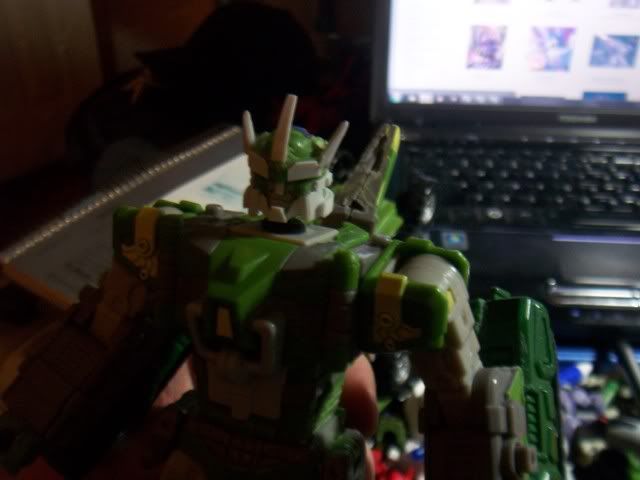 *Update Below*
I did a bit more to the legs last night and earlier tonight, but then called it quits until tomorrow night. I'm hoping to finish off the legs and go for the chest tomorrow sometime (if I have the time--gotta help do some paperwork for all the bills/funeral stuff).
I'll try to get a few shots of the alt mode tomorrow also--I think you guys will dig it--it screams Galvatron, but updated and kinda more "techy".
And yes, the images you're about to see have old medication bottles cut and fixed onto the legs.....I think it adds a nice touch to the whole "crazy" bit from G1. lol (seriously though, they were the perfect size and fit just how I wanted them). Also, the couple of black and white shots are there so you can get a feel for the build so far, without all the green and orange shining at you. Before I forget, the underside of the tank treads will probably be filled with some putty and I'll try to sculpt some of the treads back onto it to help fill in the gaps. Honestly, it's not top priority since it will be sitting on the ground in alt mode and in bot mode, you really don't see it (unless you're staring at his ass).